Tornadoes tear through US south, killing three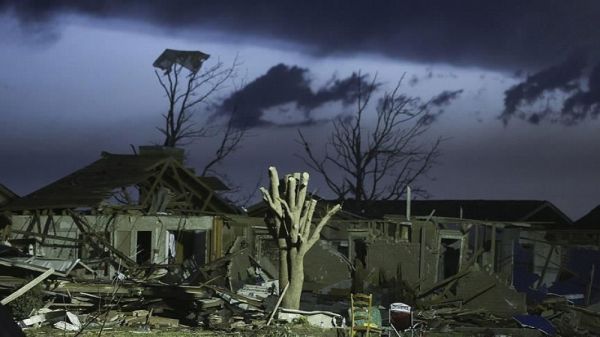 Tornadoes have torn through several south-eastern states in the US, killing at least three people and injuring several others, according to BBC.
Two people were killed in Alabama and one in Louisiana, according to local authorities. The extreme weather tore the roofs off houses, downed trees and caused mass power cuts.
One school in Louisiana was reduced to rubble only minutes after pupils were evacuated, according to reports. The school, in the town of Alexandria - around 200 miles (320km) north-west of New Orleans - was destroyed only 10 minutes after teachers led 18 students to shelter in a nearby church after receiving an alert. The students hid under pews for safety during the storm. After it passed they were rescued by fire rescue crews who wrapped them in blankets and walked them through the wreckage to safety.
The National Weather Service in Lake Charles reported that the path of the tornado stretched for 63 miles across the state.
In Alabama, officials said the two people killed were a husband and wife. A seven-year-old child was also reported to be among those injured in the state. Multiple injuries were also reported in Mississippi, where officials said dozens of homes had also been damaged. A Baptist church in Guntown, Mississippi, was reported to have been destroyed. Officials say 35 other structures were also damaged in the town.
National Weather Service (NWS) meteorologist Jared Guyer told Reuters news agency initial reports suggested that the first tornado was reported in Louisiana at about 10:35 local time on Monday (16:45 GMT) and the first fatality occurred around 40 minutes later. At least 28,300 people experienced power cuts in Mississippi, Louisiana and Alabama, according to the tracking site PowerOutage.us. Storms are expected to continue to pose a threat to parts of Florida and southern Georgia on Tuesday, according to forecasters.