"Hand in Hand for A Brighter Future"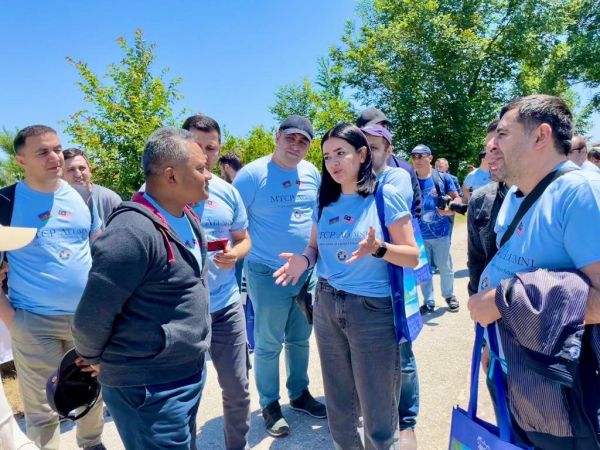 At the joint initiative of the Embassy of Malaysia in Baku, the Republic of Azerbaijan and the Malaysian Technical Cooperation Program (MTCP) Alumni Club, a "Hand in Hand for A Brighter Future" Program had been organized on 22 May 2022 at Gizilaghaj National Park, Lankaran District with the support of the Ministry of Natural Resources and Ecology of the Republic of Azerbaijan.
During the program, H.E Dato' Yubazlan Yusof, Ambassador of Malaysia to the Republic of Azerbaijan officiated the program and released around 700 fishes at the Reserve to make a symbolic contribution to the relations between Malaysia and Republic of Azerbaijan.
As part of the Malaysian Public Diplomacy and Outreach Program, the program aimed at encouraging greater people-to-people connectivity as well as commemorating the enduring friendship and fellowship between Malaysia and the Republic of Azerbaijan. Through this friendship association, greater understanding between people and better appreciation of cultural values could be achieved.
The MTCP which was established in 1980 reflected Malaysia's commitment to the South-South Corporation through the sharing of Malaysia's development experiences and expertise with other developing countries. Since its inception, more than 34,000 participants from the 144 countries have benefited from the various programmes offered.
To date, there are 172 MTCP Alumni from Azerbaijan. Malaysia would like to welcome more civil servants from Azerbaijan to attend the MTCP programmes. It is hoped that the MTCP Alumni Azerbaijan will continue to prosper and contribute to the growth, development, and progress of the bilateral relations between Malaysia and Azerbaijan.
The program was also held in conjunction with the International Day of Biological Diversity (IDB) which celebrates its anniversary on 22 may 2022 under the theme "Building a Shared Future for All Life".
Biodiversity is the living fabric of our planet and remains the answer to several sustainable development challenges. According to the data released by the National Diversity Index (NDI), Malaysia was ranked 12 in the World's Biodiversity Rankings.
At the Rio Summit in 1992, Malaysia made a commitment to maintain at least half of its total land area under forest cover. Since 2016, following the establishment of Malaysia's governance structure for monitoring and reporting on the Sustainable Development Goals (SDGs) - 1,859 ha of degraded areas in the country have been rehabilitated. Today, 55.3 percent or 18.27 million ha of the country's land area remains under natural forest cover.
The fish releasing and tree planting programs serve as the initiatives in commemorating the International Day of Biological Diversity (IDB) with the aim to increase understanding and awareness on the protection of the nature and ecological balance.