Community Resource Hubs are officially opening in Fuzuli-Horadiz, Aghjabadi and Tartar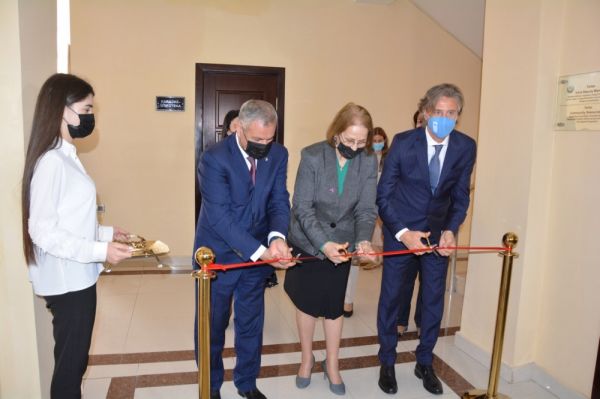 The United Nations Development Programme (UNDP) and the State Committee for Family, Women and Children Affairs are officially opening three Community Resource Hubs in areas of Azerbaijan affected by the recent conflict.
Located in Fuzuli-Horadiz, Aghjabadi and Tartar, the hubs will provide support to the most vulnerable groups and recovery assistance to the communities.
The Chairperson of the State Committee for Family, Women and Children Affairs, Bahar Muradova, said the new hubs "will help identify the most urgent needs of the war-affected communities and provide socio-economic rehabilitation support to the affected citizens. The services offered by the hubs will include support for people to recover their livelihoods and psychosocial and business counselling. The hubs will especially focus on the needs of women, families and people with disabilities".
Officially launching the new Community Resource Hubs, UNDP's Resident Representative in Azerbaijan, Alessandro Fracassetti, highlighted the inclusive process of the project design:
"By listening to the concerns and challenges of the communities, we have helped to identify a number of potential services that can immediately be provided through the hubs. Ultimately we would love to see this network of hubs expanded across different regions and transformed into a large-scale programme that will serve as many people as possible."
The new hubs are the latest outcome of UNDP's work with the Government of Azerbaijan to provide support for conflict-affected areas in line with the Government's priorities for medium and long-term recovery.
The hubs build on the successful model of the Women Resource Centres implemented by UNDP and the State Committee in nine regions since 2011. The main mission of these Centres is to help strengthen rural women's entrepreneurial skills and advance their competitiveness in the labour market, empowering them to overcome the many socio-economic challenges faced by women living in rural areas.
The initiative is part of the larger UNDP-funded programme 'Early Recovery and Community Resilience for the Most Vulnerable in the Fuzuli-Horadiz, Aghjabadi and Tartar regions of Azerbaijan'.
Over the upcoming period, this programme will focus on supporting local development through a series of measures, including enterprise development, vocational training, green jobs and quick impact projects designed to help rehabilitate key local infrastructure based on community priorities.