President: Armenia has been severely polluting Okhchuchay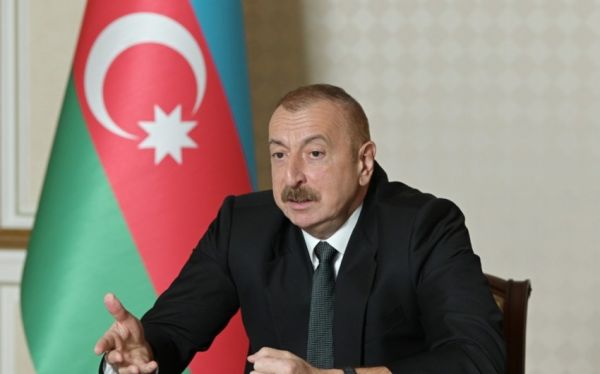 "Armenia has committed severe ecocide in the formerly occupied territories of Azerbaijan. 60,000 hectares of our forests have been destroyed, cut down and taken away, soil and rivers have been polluted and contaminated," President of Azerbaijan Ilham Aliyev said speaking at the 76th session of the UN General Assembly in a format of a video address, Report informs.
The head of state noted that Armenia used water reserves to create an artificial environmental crisis on the formerly occupied territories.
"In 2016, the Parliamentary Assembly of the Council of Europe adopted resolution entitled 'Inhabitants of frontier regions of Azerbaijan are deliberately deprived of water' demanding the Armenian authorities to cease using water reservoirs as tools of political influence or an instrument of pressure. This resolution was totally ignored by Armenia, which continued to use the Sarsang water reservoir as a tool of humanitarian and environmental terrorism. Armenia was intentionally opening the floodgates during the winter months to cause flooding in the surrounding areas and closing them in summer to deprive people and farms from water in the former frontline region," President Ilham Aliyev said.
He drew the attention of the event participants to the fact that Armenia had been severely polluting transboundary river called Okhchuchay causing irreversible degradation of ecosystem of the area along the river in Azerbaijan. The head of state added that regrettably, some foreign companies are also participating in this environmental crime.
"Armenia illegally exploited natural resources, including gold and other precious metals and minerals of the formerly occupied lands and exported it to the international markets. Based on solid facts, we have identified companies from different countries illegally exploiting Azerbaijan's natural resources and conducting other illegal activities in the formerly occupied territories. We have already started taking legal actions against those companies. They will be held accountable for illegally exploiting our natural resources in the formerly occupied lands," President Ilham Aliyev said.