Azerbaijani MFA: Manifestation of hatred and Azerbaijanophobia still observed in Armenian society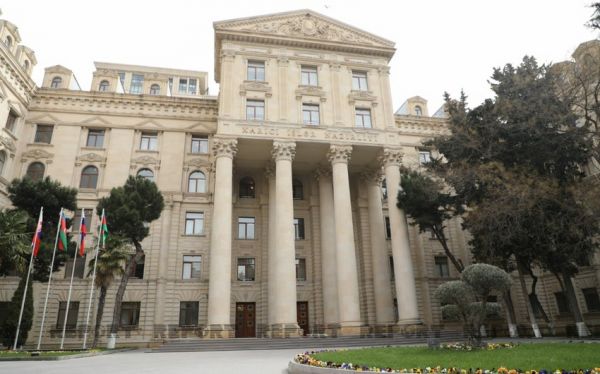 "Five months after the end of the war, a worrying level of manifestation of hatred and Azerbaijanophobia is still observed in Armenian society. It is disturbing to see that anyone who dares to speak about reconciliation and peaceful coexistence with Azerbaijan is treated as a "traitor" and called "Azerbaijani" and "Turk" as denigrating slurs. Moreover, irresponsible and dangerous ideas of revanchism and intolerance are propagated at the state level, and regrettably, shared across the whole political spectrum in Armenia," the press service of the Azerbaijani Foreign Ministry said, Report informs.
"All these reprehensible developments have since remained, however, unnoticed by the Commissioner, including the fact that the Armenian authorities have failed to take any punitive step against any Armenian official for his/her racist approach towards Azerbaijan and Azerbaijanis. The public of Azerbaijan is not aware of any measure taken by the Commissioner regarding such blatant manifestations of intolerance, racism, and discrimination by Armenian officials.
"In conclusion, it should be emphasized that the letter of 20 April 2021 casts doubt on the independence and impartiality of the Commissioner's work, and it might adversely impact the relations between the Commissioner's office and Azerbaijan. Moreover, the very fact of the letter being very far from an impartial appeal runs against the stated noble goal of "promoting peace and reconciliation." On the contrary, it encourages revanchist circles risking the fragile process of establishing good-neighborly relations in the region.
"Azerbaijan strongly urges the Commissioner to remain impartial as requested by her mandate and refrain from actions and statements that negatively affect the authority and reputation of the Council of Europe," the ministry said.