AZAL Employees Aged 50 and over Vaccinated against COVID-19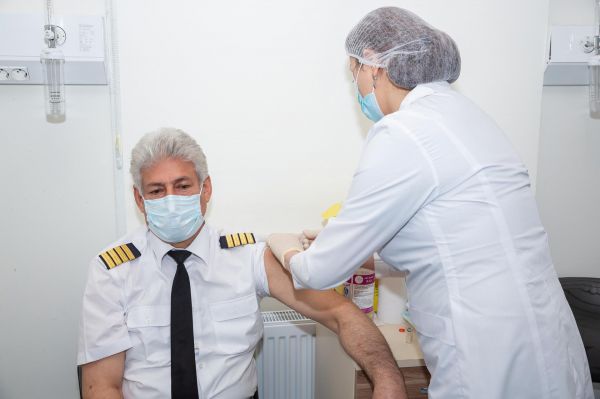 Starting from February 22, vaccination against coronavirus infection (COVID-19) was begun for all employees of "Azerbaijan Airlines" CJSC aged 50 and over.
The aviation staff of this age group is on the list of those who will be the first to receive the Covid-19 vaccine.
Vaccination of the airline personnel will continue until February 26. Vaccination will be free of charge and voluntary.
The national air carrier of Azerbaijan calls upon all citizens eligible for a COVID-19 vaccine to be vaccinated more actively. This will help to improve the epidemiological situation in the country and, as soon as possible, restore the aviation and tourism sectors.
Through a successful vaccination program in the country, AZAL expects the Republic's borders to be reopened and the passenger transportation sector to return to normal operations. According to the five-year development plan of the airline, it is envisaged to return to the previous traffic volumes and to resume regular flights on all routes operated before the pandemic until 2023. And by 2025, the airline plans to further expand its route map with the near and far abroad countries.
Also, as part of the resumption of flights, Heydar Aliyev International Airport will continue a motivational program to attract foreign airlines to the country and introduce new air services.
It should be noted that the so-called regimes of the fifth and seventh freedoms of the air operated at all international airports of Azerbaijan before the closure of borders. All foreign airlines wishing to operate flights to Azerbaijan and further to other cities will receive the same rights as the national air carrier. These degrees of freedom will enable flights from Azerbaijani airports to 40 countries in Europe, North America, Australia and South-East Asia.