Azercell provides an opportunity for Azerbaijani youth to participate in the "Cyber Security Camp" in Türkiye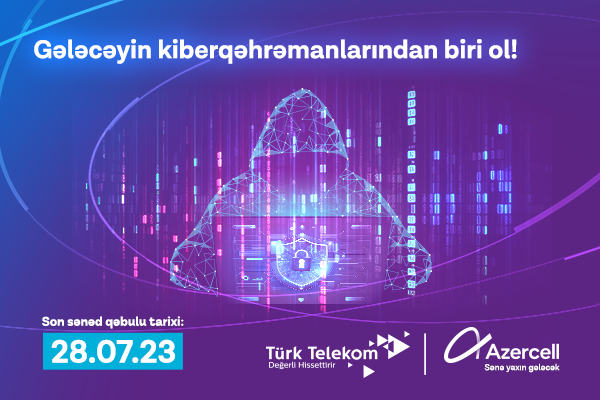 The country's leading mobile operator and Türk Telekom will send 10 young professionals specializing in cyber security for training in Türkiye
Within the cooperation of Azercell and Türk Telekom, a competition is announced for the professional development of young people specialized in the field of cyber security. Based on the outcomes of the competition, this year 10 young specialists from Azerbaijan will have the chance to participate in the "Cyber Security Camp" to be held in Türkiye in August.
This year, for the first time, Azerbaijani students and young professionals who have just graduated from the university can apply to the "Cyber Security Camp" held by Türk Telekom under the motto "Become one of the cyber heroes of the future". "Azercell Telecom", the country's leading mobile operator, is the official partner of the project from Azerbaijan. Azercell will support the participation of the winners by arranging the selection process of the students who will participate in the camp.
To join the Cyber Security Camp, you need to register here before 07/28/2023.
It should be noted that the "Cyber Security Camp" (Bootcamp) is annually organized by Türk Telekom. In 2023, the camp will be held between 14th and 23rd of August. During the 10-day camp, students will have the opportunity to improve their knowledge and skills via training on important topics in cyber security, both theoretically and practically. Also, after the camp, depending on the results of the exams, job opportunities will be provided for the outstanding students with high marks.
Cyber security is one of the most relevant and important topics in the rapidly digitalizing world. As a leading mobile operator, "Azercell Telecom" has implemented many projects for individuals and institutions to operate in a secure environment in terms of cyber security. For many years, the company has organized special programs and trainings to protect the safety of children on the Internet and in virtual life, bringing modern international trends to Azerbaijan and successfully expanding its activities in this direction.