Honorable Guest Speaker of AmCham Members' November Luncheon was Minister of Ecology and Natural Resources Mr. Mukhtar Babayev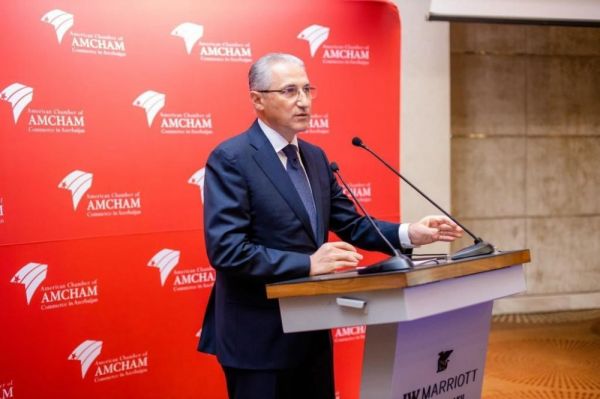 On November 29, 2021, the American Chamber of Commerce in Azerbaijan (AmCham Azerbaijan) organized its monthly members' Luncheon. The Honorable Guest Speaker of this month was Mr. Mukhtar Babayev, Minister of Ecology and Natural Resources of the Republic of Azerbaijan.
Opening the event, Executive Director of AmCham Azerbaijan, Ms. Gulnara Aslanbayli welcomed the participants of the Luncheon. During her speech, she emphasized sustained activity of AmCham Azerbaijan on continuing supporting and promoting the interests of foreign and local businesses in Azerbaijan, as well as significance of the established fruitful dialogue and successful cooperation with government institutions in this direction. She also welcomed 12 recently joined members of the Chamber.
Afterwards, Ms. Aslanbayli passed the floor to new members' presentations, who gave information on portfolio and activity direction of their companies.
Then, Ms. Gulnara Aslanbayli introduced the honorable guest speaker Mr. Mukhtar Babayev.
The Minister welcomed and expressed his gratitude to all AmCham members and guests. Mr. Mukhtar Babayev delivered a comprehensive presentation on "The state of environment and rehabilitation plans in Eastern Zangazur and Karabakh Economic Zones of Azerbaijan". Mr. Babayev started his presentation by highlighting serious environmental damage on the nature, biodiversity, and whole ecosystem of the region caused as a result of the occupation, as well as its consequences such as degradation of environment, ecological disbalance and ruthless exploitation and transportation of natural resources. Afterwards, the Minister emphasized restoration and rehabilitation projects and plans in the liberated territories such as declaration of a "net-zero emission" zone by 2050, establishment of "green energy zone", use of renewable (water, wind, solar, thermal) energy sources, establishment of "Smart City" / "Smart Village" concept, application of "green agriculture" concept, sustainable management of transboundary water resources, increase of forest massifs and greenery and others.
Furthermore, within the framework of rehabilitation plans in Eastern Zangazur and Karabakh Economic Zones of Azerbaijan, Memorandum of Understanding was signed between the Ministry of Ecology and Natural Resources of Azerbaijani Republic and Karabakh Revival Fund. Within the MoU, activities in the direction of rehabilitation of ecosystems and infrastructure, as well as hydrometeorological observation systems, establishment of environmental monitoring stations, planting of new greenery, reforestation measures, assessment of water sources for the efficient use of water resources and others have been carrying out in the liberated territories.
In conclusion, all the questions and comments of the participants were addressed by Mr. Mukhtar Babayev.
At the end of the luncheon, Ms. Aslanbayli thanked the Minister and all the participants for their involvement in the event.
AmCham Azerbaijan Members' Luncheons are organized monthly by the Chamber and feature participation of high ranked government officials, member companies and representatives of diplomatic corps.