International Turkic Culture and Heritage Foundation expands cooperation with Romania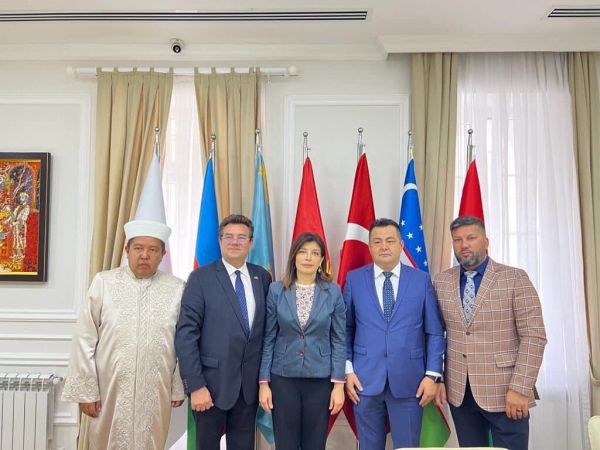 On July 17, 2023, the president of the International Turkic Culture and Heritage Foundation Gunay Afandiyeva met with the Mufti of Romania, the head of the Muslim community of Romania Murat Iuusuf, deputy, representative of the tatar community in the Parliament of Romania Amet Varol and vice-president of the Democratic Union of Turkic-Muslim tatars of Romania Arslan Ozgun. The meeting was also attended by Ambassador Extraordinary and Plenipotentiary of Romania to the Republic of Azerbaijan Vasile Soare.
During the meeting Gunay Afandiyeva spoke about the activities of the Foundation in the direction of promoting the material and cultural values of the member and observer countries of the organization, as well as about projects implemented to protect and popularization the cultural heritage of Turkic origin peoples living in various countries of the world. Stressing that one of the main priorities of the organization is the rapprochement of different cultures, the president of the Foundation noted the successful cooperation with Lithuania and Poland, where a large number of Turkic minorities live. Gunay Afandiyeva also stressed the importance of familiarizing a wide audience with the ancient cultural heritage of tatars living in Romania.
Noting the interest in expanding cooperation with the International Turkic Culture and Heritage Foundation, the members of the Romanian delegation gave detailed information about the existing state system aimed at protecting the rights and moral values of all national minorities, including tatars living in the country. They stressed the possibility of exchanging experience with the Foundation in this area and signing a Memorandum of Understanding, which will create a basis for bilateral cooperation in the future.
The meeting continued with mutual discussions regarding future prospects.