U.S. Embassy Holds National Spelling Bee Contest for Azerbaijani Students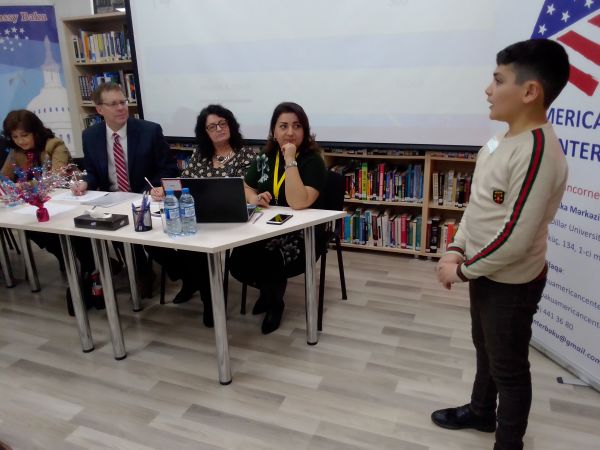 The United States Embassy to Azerbaijan, in cooperation with the American Corners of Azerbaijan, held its second annual Azerbaijan National "Spelling Bee" finals on Sunday, February 23, at the Baku American Center. The Spelling Bee, part of the Embassy's continuing program of promoting the study of English in a non-academic environment, featured students aged 12-17 from Ganja, Kurdamir, Salyan and Khachmaz demonstrating their spelling abilities.
After several hours of intense competition, the following outstanding students won their age groups:
First Place Winners:
2.
IlkanaHamzayeva – Salyan
3.
Javid Huseynov – Kurdamir
Second Place Winners:
1.
FadayaJafarova – Kurdamir
2.
AyselGulaliyeva– Khachmaz
3.
Albina Mamedova – Khachmaz
Third Place Winners:
1.
Shakar Karimova – Kurdamir
2.
ShovkatMammadova – Ganja
3.
ArifYagubov – Kurdamir
Congratulations to all the participants, who earned the right to compete in the Finals by excelling at the First Round of the competition, held throughout February at the American Corners in their home cities. In total, 359 students competed in the national tournament.
The Baku Spelling Bee, featuring participants from the national capital area, will be held at the Baku American Center in April 2020.