EU-funded Export Strategy Support Project Steering Committee approves the Project's Progress Report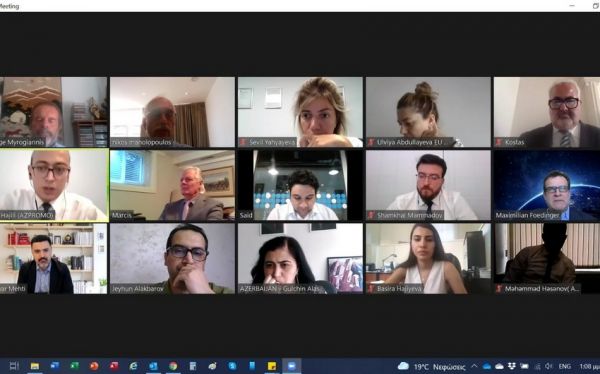 The implementation of the EU-funded Project "Support the Government of Azerbaijan in Development of Export Strategy and Support in its Implementation" started in November 2020. The Ministry of Economy of the Republic of Azerbaijan is the direct beneficiary of the Project, which is implemented by an international consortium of consulting firms.
The global objective of the Project is to support to the Government of Azerbaijan in enhancing competitiveness and expanding export opportunities through the development of non-oil exports that will also contribute to the mitigation of Covid-19 negative economic impacts.
More specifically, the Project aims to contribute on increasing the country's non-oil export potential by establishing an effective system for coordinating, tracking and reporting on the implementation of national export policies and strategies, as well as enhancing the service delivery capacity of AZPROMO and aligning its strategic goals with the best practices of global trade promotion organizations. Another goal of the Project is the international alignment of Azerbaijan quality infrastructure system, which is fundamental for global recognition of quality and acceptance of export products.
When it comes to the expected results of the Project, it is to contribute to overall development objective: the diversification of the economy to end the unilateral dependency of national income from the oil and gas industry through sustainably developing widespread economic activities. Pilot targets will be the support to economic development of at least five selected agro-food value chains.
On July 12th, 2021, the Steering Committee of the Project came together for the first meeting.
The Steering Committee Meeting is held to present the latest outcomes achieved by the Support the Government of Azerbaijan in Development of Export Strategy and Support in its Implementation. To share the current Project topics and to create the information exchange opportunities among all the stakeholders the planned contents of the meeting were oriented towards each of the Project components. Training and capacity building facilities were also the subject of discussion.
With an introduction by the Team Leader Dr. George Myrogiannis and the presence of the Project Director Dr. Nikos Manolopoulos the Project Experts explained the approach and activities to cooperation partners. The direct beneficiary and main partner for cooperation in the framework of the Project is the Ministry of Economy and AZPROMO.